Well, only a few of these are from the 4th (firworks), but the rest are from this past weekend.  After seeing the fireworks at UB we went to the mountains Saturday and Sunday, and did a little hiking.  It was a good time.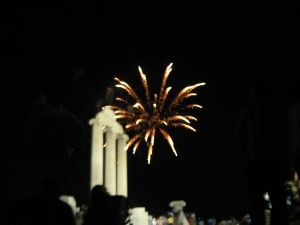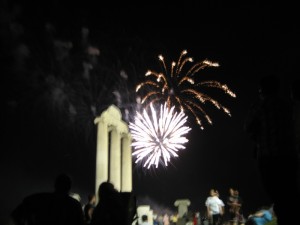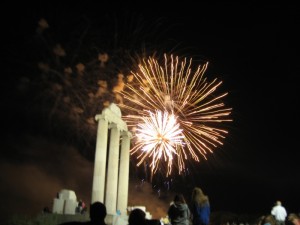 There are a few shots of the fireworks at UB.  They were nice, although I would have liked it if they hadn't played music during the show.  Due to our spot, I couldn't really avoid the pillars.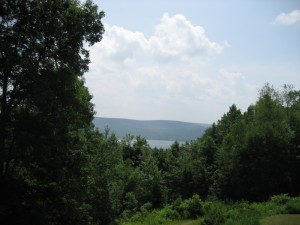 The pic above is a view off of our cabin porch.  The water is the Allegheny Reservoir.  On Saturday me and a couple friends went on a hike up the hill the cabin is on via an old logging road.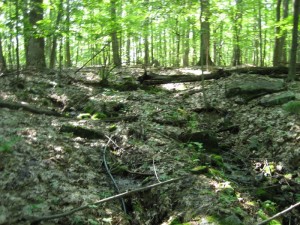 A spring at the top of our hill (the cabin is about midway up).  This hill has a lot of springs on it, which is neat.  You can see a black PVC pipe someone used to try to get water to a different cabin years ago.  (The guy made the mistake of using electrical conduit, which isn't drinking water safe.)  Our cabin gets its water from a different spring.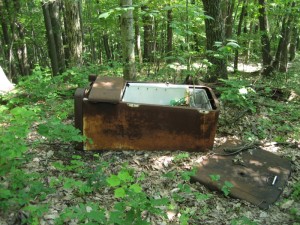 How this old refrigerator got to the top of the hill maybe thirty years ago is a long story.  But, it's there, and it remains a monument to human stupidity.  This fridge is further up the path than the spring from the last pic.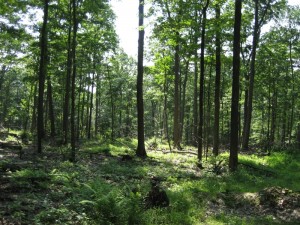 A picture from the top of the hill, beyond the refrigerator.  I had never actually explored it this far before; someday I'm going to keep following the old logging road and head to the other side of the mountain.  It won't be a long walk, but it will be interesting.  At this point in our hike, though, we turned back.
Well, I'll probably add more pics later (yet again), but here's a little flash and a little greenery.  I hope you all had a good weekend.