Well, I hope everyone has had a great Solstice, and will continue having a wonderful holiday season with Christmas in a couple days.  Up here in NY it's been pretty rainy and a little on the warm side, with little snow.  Hopefully we'll have some for the 25th, as that would be fairly appropriate.  And hopefully when the inevitable lake effect comes we'll all be safe.  If you're reading this from somewhere out in the western US where they seem to be getting our winter weather, I wish you the best.
Anyway, as you may have seen me post here in the past, I've had some interesting issues with my Lenovo G530 laptop.  First, the screen became wobbly and shaky.  Then, it started to flicker.  The first of these was easy to fix, the second very annoying, and almost as easy to fix.  Well, I write now because the dreaded LCD flickering has returned.  Now, it's been a while since I posted about it last, but in truth the fix lasted for maybe three weeks.  Figuring the cable had come loose, I repeated it, giving me another couple weeks.  Finally, a couple weeks ago I reseated the video cable only to have reliable operation for maybe a few hours before the flashing came back.  It seemed that the work around involved slapping the display repeatedly in certain locations along the sides, which served to jostle the wiring back into place, as well as relieve some of my frustration.  Then last week, after doing this for a while, I got fed up with this.  Here was the result: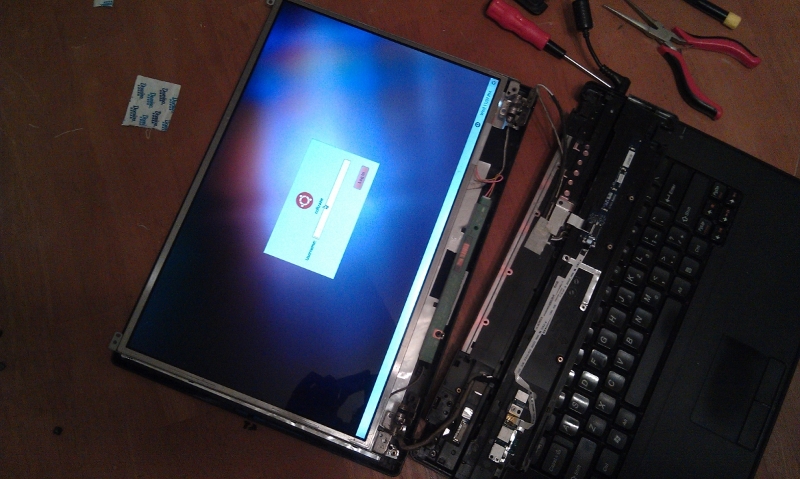 Now, you might think that that was a little bit harsh.  But, I disassembled part of the screen and put it back together again.  I figured that somewhere in there something was in a bad position, and just needed to be tweaked a little.  And, it worked!  Since doing this I've had no flickering.  You might be wondering what, specifically was the problem.  Well, I still am too – all I did was take it apart and put it back together again, and it seems fine.
Now, given the popularity of previous posts a nice guide is in order.  However, there are a few things to keep in mind before going through this and attempting it yourself:
After taking pictures, I realized that I probably could have gotten some better ones for illustrative purposes.  So, I recommend that you take a look at Lenovo's page with take-apart instructions for this unit.  Also, look over the entire graphic carefully before attempting anything, just to get a general idea.
You need to first follow the instructions for getting at the screen hinges, as well as reseating the video cables.  The first of these is more important.  Use it to get at the hinges; don't tighten them as we'll be unscrewing them.  The second is less necessary, but I recommend it to have easier access to the cables, and because you may as well reseat those while you're tearing this thing apart.
There are a tone of small screws and such in this.  You probably already know this if you've taken it apart before, but it bears restating.  Find a clear, hard surface like a kitchen table to work on this, and keep track of your screws.  It should go without saying that an appropriate screwdriver set is a must (though you're probably good if you've done this before).
Be careful when removing the screen bevel (after unscrewing the screws under the little rubber feet).  Use a small, flathead screwdriver and beware of power and data cables, as well as the camera up top.
This isn't a bad time to clean the laptop screen while you're at it.  I used a paper towel I dampened, and added a drop of dish detergent to it.  Try not to get and soap or water into the sides of the display.  Take another damp paper towel to rinse it.
Finally, this procedure is a bit more involved than ones before.  So, BE CAREFUL.  If you aren't comfortable doing this, seek assistance.  And of course, do this at your own risk; I am not responsible for any damage to your laptop, yourself, or any other possession.
So, here it is: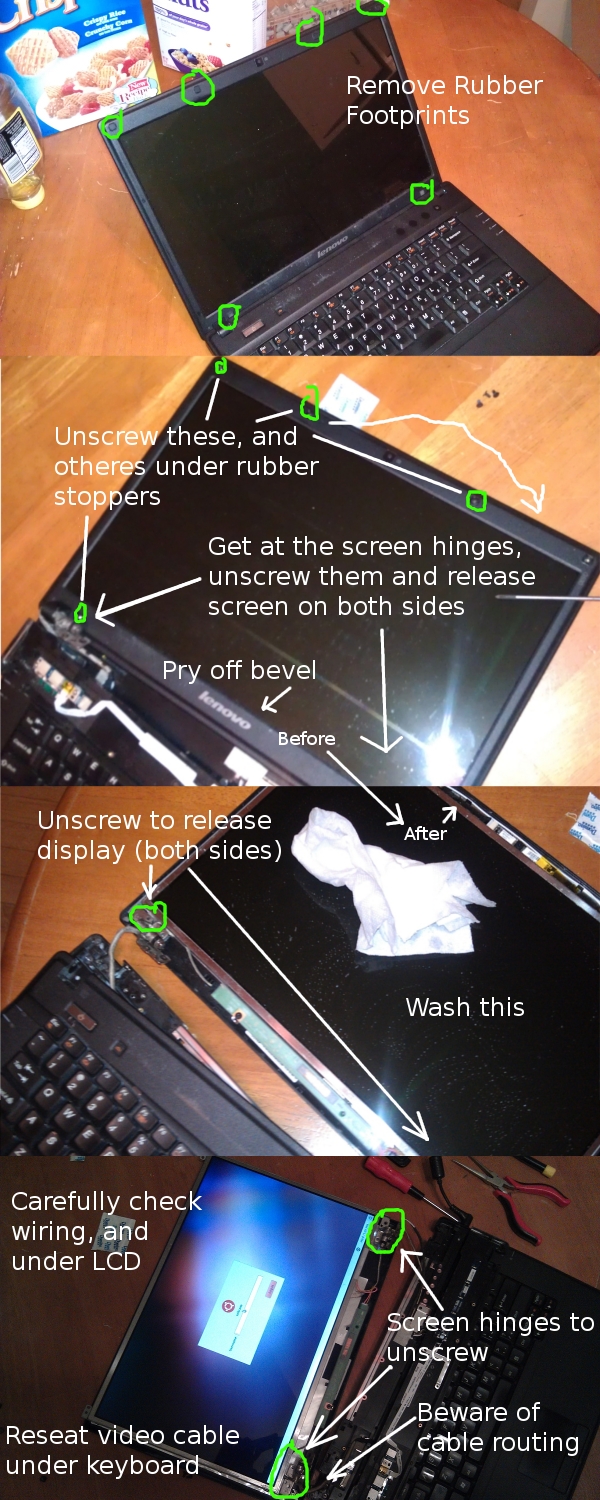 Good luck.  This may help you, or it may not, but if the flickering has really been getting to you it's worth a shot.  Overall, if you're thinking of buying a G530, I'd recommend against it.  It's pretty nice for a crappy machine, but it is a crappy machine.  But if you're stuck with one, at least it's not impossible to take apart.