Well, I have no doubt that my trusty Lenovo G530 will still be functioning after the rapture.  It's getting a bit flakier in its old age, but it's still chugging along quite well.  However I do, of course, have to tend to it from time to time.
If you have one of these you might have gotten the telltale flicker of the LCD screen.  Sometimes this seems to accompany the loose screen hinges.  Well, it is slightly related; this problem is actually caused by a loose video cable leading to the monitor.  For me, it wasn't actually that hard to fix, basically amounting to a connector that needed to be reseated.  (Another cause could be the cable itself, which would be bad, but it's probably just the connector.)  To fix it, just remove the keyboard, disconnect the video connector, and reconnected it.  Once again I have prepared a handy graphic to guide you (though be sure to check out my post on fixing the screen hinges and check out the graphic there first; you'll need to take those steps to get to the screws here):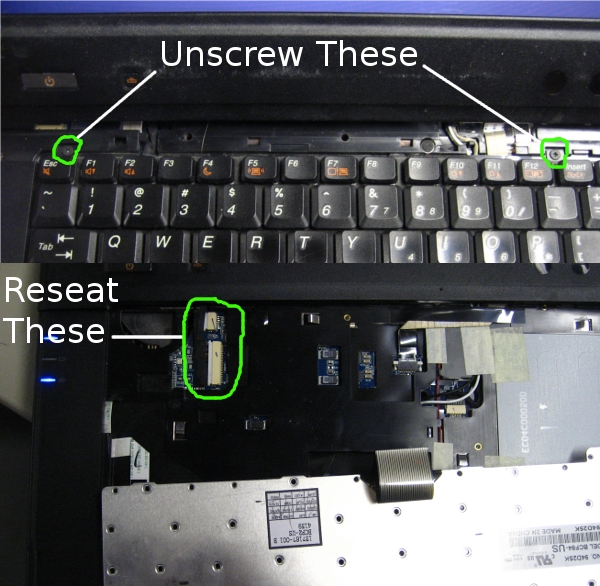 Be very careful, as the parts in here are kind of delicate.  Particularly don't yank the keyboard too much.  Pry the video connectors out with a screwdriver (carefully), and then just stick the back in.  The problem could be as simple as crud on the contacts, and just doing this can work wonders.
This fixed the problem for me, your mileage may very.  Of course, do this at your own risk (ie, I am not responsible for damage to your laptop), but if you're careful there's not a lot to mess up.
UPDATE: This may not fix the problem permanently.  If the problem comes back and maybe even gets worse, I have a new post with a solution that may be a little more effective.