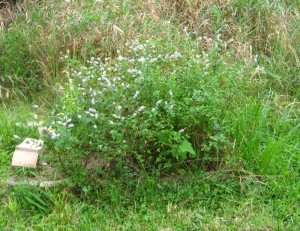 I had been curious to try out Linux Mint (see also the Wikipedia entry) for a while now.  Basically, it's a distribution based on Ubuntu, which aims to provide a better out-of-the-box experience by including some proprietary software.  Ie, when you install it, you shouldn't have to install many codecs or whatever, as you do with Ubuntu.  It's also gotten more and more attention as people have grown tired of UI changes with Gnome 3 and Ubuntu's Unity, since its feel is closer to that of Gnome 2.  Partly because of this, Mint has grown in popularity, spreading and taking over like its namesake herb (though it still seems to be second to Ubuntu).  Because of this, I thought I'd give it a try.
I have an older desktop, actually the first one I built back in the early 2000s (I think around 2003 or 2004).  This machine is old, but not exactly decrepit – it's a dual AMD MP2800 rig, with 1 GB of RAM and a 120 GB hard drive.  Not my most powerful computer, but it still works pretty well.  Since it wasn't doing much I figured I'd use it to test Mint 13, the latest release as of this writing.  I'm not going to lie, I don't really feel like doing a full review.  There are tons of those around, just go to Google.  However, I have some remarks and a random tip or two.
Overall, installation was a pain and took me several attempts.  Now, don't get the wrong idea here, I don't really blame Mint for this.  This machine does not have a DVD drive, and Mint 13 no longer distributes CD images – they're too big.  Now, I tried using a USB stick, which seemed to work, but was also slow…  Because while the motherboard can boot from USB, the onboard USB is 1.1, and it won't boot off the 2.0 PCI card I have in there.  Luckily, there is a guide on howto remaster the DVD image and shrink it.  Basically, you just remove some installed packages.  I didn't have a Mint system already, so I had to mess around with the tool they mention in order to run it on an Ubuntu 12.04 system.  (Basically, you need to either install the mint-core package in Ubuntu, or download the .deb and force an install or extract it.  Sorry to gloss over this, but hopefully most people either have faster USB or a DVD drive. If someone wants instructions, I'll try to put something together.)  I remastered the no-codec CD, and ended up removing samba, firefox, java, and a few other things.  This should get you an image small enough to fit on a CD.  When the install's done, just use the package manager to put everything back (that you want).
So, I got the install rolling.  However, I then ran into a problem with the installer hanging toward the end of the process.  Everything seemed to finish, but the window would close and leave only the spinning mouse cursor to indicate something was happening.  After leaving it for a while, rebooting revealed a failed install.  A fix for that is here.  Basically, when the live CD (or USB stick or whatever) boots, open a terminal and type this:
sudo apt-get remove ubiquity-slideshow-mint
This should allow the install to finish.
Finally, the system would not detect my nVidia card.  This card is old, and requires the legacy drivers, which the proprietary driver manager was unable to find.  This was annoying, but I found a solution here.  That guide has you set up a repository for Ubuntu Oneiric, and install the Xserver from that distribution along with the legacy drivers.
After going through that, I had a working install!  Like I said, I don't blame Mint.  Not too much, at least.  It would have been nice if there was some support still there for the older video card, but then again this hardware is ancient.  I can also understand why they don't distribute CDs.  But there you go, I'm probably not the only one who will have to go through some hoops to get it running on something older.
There is one more problem, however.  Due to what I can only consider to be my older video card, the desktop effects are slow.  Too slow to be usable, in fact, so I turned them off.  This also means no Cinnamon desktop, although the fallback Gnome option is actually quite nice. I'll probably use this system as it is for a while.  If you liked Gnome 2, and want an Linux distro that's newer but has that kind of feel, I would highly recommend checking Mint out.  That said, I'm not sure I'd install this again, but that's just me.  Overall, it's very nice.