Finally, it's getting colder out at night.  A month ago I needed to have the AC on in order to sleep – it's much easier for me to when it's colder out.  Now it's comfortable, and not too humid.
I guess I might as well throw out a few random things here.  First of all, for his entry in the Buffalo 48 Hour Film Project this year, my brother has won the award for best use of prop.  The prop is a head of cabbage, and the genre is mockumentary.  (Check out their site for details.)  Four of the six currently active members of Jack Swift (myself included) recorded a five-song sound track on Saturday the 15th of August for the film (which was due the 16th).  Here is the film, titled Cabbage in Common:
It was quite a time.  They may have one in your area, check it out.
Here is an interesting picture I took a little while ago, but never uploaded.  It's the moon in Endicott, NY.  I was having trouble sleeping, so I grabbed the camera: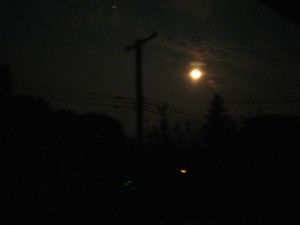 So let's see, what else…  Well, last fall I talked about my light flicker circuit, and how I would put up something resembling a schematic.  And then I never did.  Well I've been thinking about it again, and now I will try to get something going.  It's a little convoluted, but it's not a terribly complex thing and I think people would get a kick out of it.  I would also like to make a PCB layout for it too, and clean it up.  But schematic first.
Well, that's it for now.  It's the last day of August (right now there are 15 minutes left), and while we've still got a few weeks of summer left fall is on the horizon.  So until next time, whenever that is, have fun.